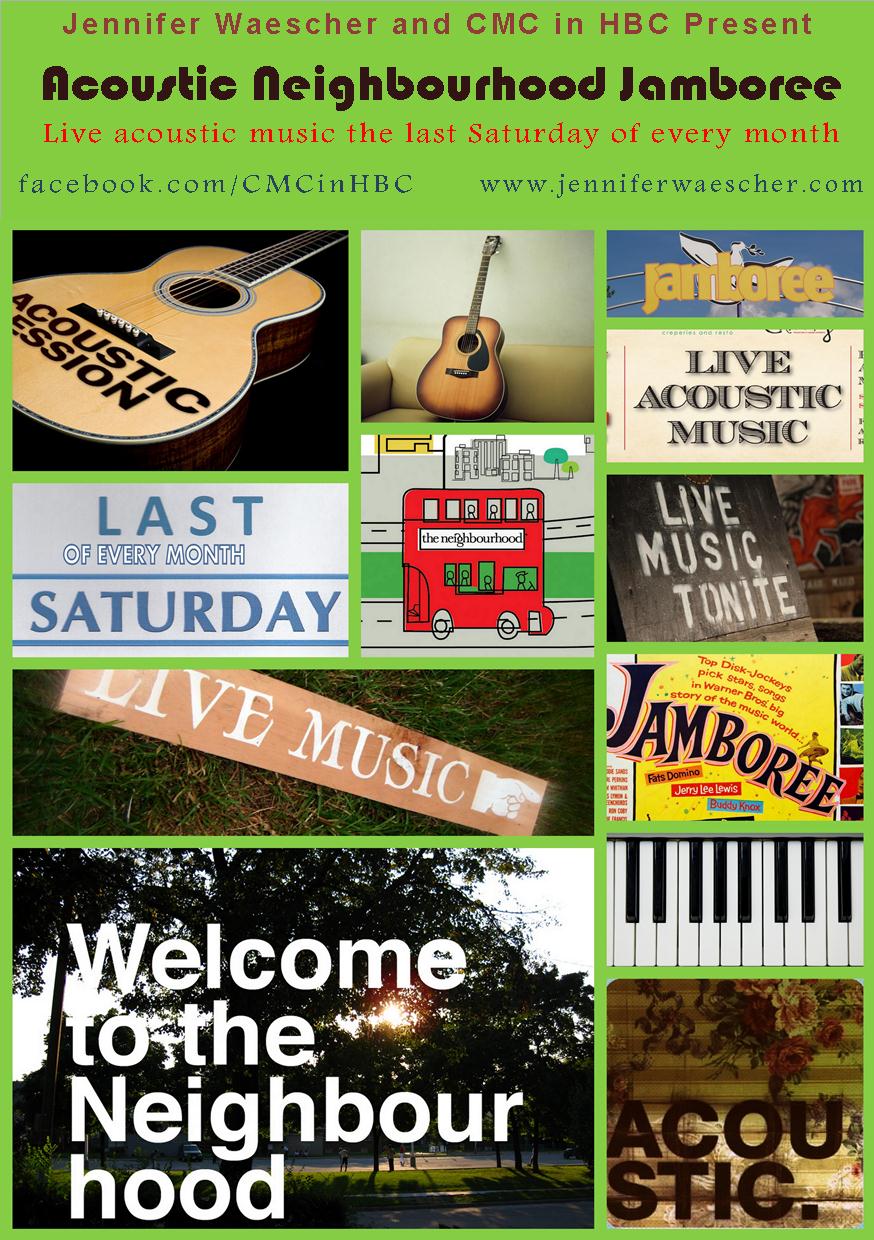 Acoustic Neighbourhood Jamboree

| | |
| --- | --- |
| | October 30, 2015 |
| | Seoul |
| | The Camarata Music Studio |
This is the monthly event that I run, host, and play in.
Here's this month's details:
Hello everyone! HBC Fest is over, but the music keeps rolling in HBC.
It's an evening of FREE music from some very talented musicians. Enjoy the laid back, comfortable atmosphere of the Camarata Music Studio, and amazing music in a concert like environment. It's something a little different, and a little special, as we showcase our local talent!
Reviews for the Jamboree:
-One particular monthly event remains as my favorite, that being the Neighborhood Jamboree at Camarata Music Studio in HBC. Jennifer Waescher, a talented local musician, has maintained this event and it's respected reputation. This event allows a few different musicians to showcase their art through their own music technique and styles that they have crafted. It's a break from playing in a crowded bar. People are there solely to hear and appreciate music. –Maggie Crossett
-Don't let the word "acoustic" fool you: because this event ranges from authentic Spanish flamenco to Americana to jazz to slightly borderline acoustic rap/funk/rock. And everything in between. It's a hidden gem of the neighbourhood, and I would love to see it get more attention and attendance that this event deserves! -Zee Kang
We'll open the venue at 8:30 and MUSIC STARTS at 9pm. Please come before 9 to make sure you catch all the musical acts. You'll see short sets from each artist, and a collection of different styles of music. You can drink wine and other beverages from the bar, and generally have your mind blown by some fantastic musical stylings.
This month's artists:
Yeontae Kim
Maggie Crossett
Jennifer Waescher
Katie Grace
Seth Mountain
DIRECTIONS
To get to the CMC Studio, go to Noksapyoung Subway Station, exit 2. Walk straight approximately 100 meters to the traffic light, and veer left to Haebangcheon. Walk about 400 meters (about 5 minutes), and the "Camarata Music Company Studio" (look for the white sign will be on your left, in the same building as CVC/CU Convenience store. Jacoby Burger is directly across the street.