In 2011 I released my debut album, Beyond These Words.  The album has been and is for sale on various online sites, world wide.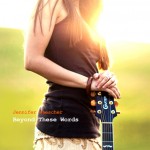 The album was also distributed in Korea, with hard copies available in Kyobo book stores on the hottracks, as well as on various online sites, including naver, bugs
cyworld, and melon.
World wide, the album is listed on iTunes, amazon, spotify, and rhapsody. More information, links to purchase and streaming is available in the music section on this site.
The album was recorded and mastered in Seoul, South Korea by Brad Wheeler,  and also features the talents of Zee Kang on Viola and Shinae An Wheeler on keys.
If you're interested in supporting and getting my songs played on the radio, selected songs are also on my CBC radio page, where frequent plays get the songs on the CBC radio in Canada.
The album also received a press release and review:
Review in Groove Magazine (Click to Read)
Promo:
Jennifer Waescher is a Canadian singer/song writer based in Seoul. An artist in all senses of the term be it acting, writing, traveling or indeed music, Jennifer is a creative force worth taking notice of. Now her debut CD, Beyond These Words is ready for release. Described as a "compilation of various songs written over the last 5 years, during travels throughout Asia and at home in Canada" the album boasts a warm and glowing quality, thanks to recording, mixing and production of  Brad Wheeler. The album also features the talents of Brad Wheeler, Shinae Ahn and Zee Kang. All of this combined with Jennifer's wonderful songs and beautiful singing makes for a rich tapestry of sounds.